Kickstarter - Good Old Luxury Dice
Good Old Luxury Dice - Handmade Dice Kickstarter
We bring you our luxury dice collection, soon to come to Kickstarter as a quick campaign to bring you lovely handmade dice, and our dreams of being able to offer them come true!
Each set is handmade by us, with every set lovingly sanded and polished to a beautiful shine, in a variety of styles that'll get every dice goblins mouth watering.
25th of July is the launch date!
Don't miss the early bird goodies we have in stock ;)
----
With a total of 10 sets, and giving you the option to by single D20's, along with full sets, we hope that the backing levels are accessible to as many people as possible. We're also putting in some low stretch goals to make sure everyone, both big and small, is able to get something extra with their set.
All our dice set names are picked by the community, join our twitter to join in!
----
First Revealed Set 
Fey Sunset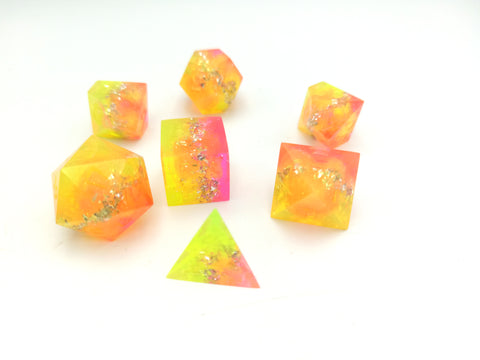 Second Revealed Set
Necrotic Blight
Third Revealed Set
Siren's Pearls
Fourth Revealed Set
Phantom Undertow
Fifth Revealed Set
Cosmic Chance
Sixth Revealed Set
Trans-dimensional
Seventh Revealed Set
Poseidon's Promise

Eighth Revealed Set
Ninth Revealed Set
Tenth Revealed Set
(go to our twitter to suggest names!)
----
We've tried to bring a variety of styles to the table and look forward to getting your support, please sign up by email and follow us on
twitter
for more information! We'll be releasing images of the sets over on there!